Name:
Mickroz UI (English)
Author:
Mickroz
Description:
Updated for 0.8.8
Installation:
Copy all from the World of Tanks folder to your world of tanks installation folder.
My GUI includes:
Zoom Mod by koshnaranek
Historical Realism Gun Sound mod 1.83 by Gnomefather
Received Damage Announcer
Multilined TankCarousel by 4lCapwn and CS2001
XVM TankCarousel by STL1te edited by pepelu29 to work with Multilined TankCarousel.
Accurate Damage Indicator
Enhanced customizeable Radial Menu by locastan
Color Messages and Session Stats by locastan
Enhanced HD minimap by locastan
Replacements shell icons by Jote
Clock in Hangar by locastan
J1mB0s Contour Icon Mod v1.26 (custom edited by me)
J1mB0s Crosshair Mod v1.32
Zayaz Damagepanel 4.4.1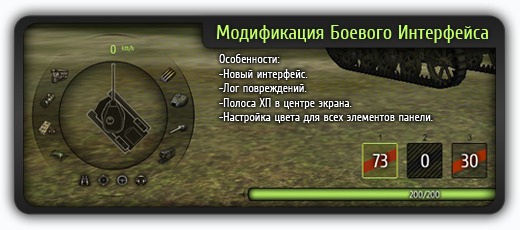 Visible Rail Carts
File release:
1.0.9e
External:
http://www.mediafire.com/?349jwhwf1613jwh
The Public Enemy Team is not responsible nor required to provide support for this modification. By installing this MOD, you acknowledge that the Public Enemy Team may not be able to provide support.
View Download:
downloads.php?view=detail&df_id=2